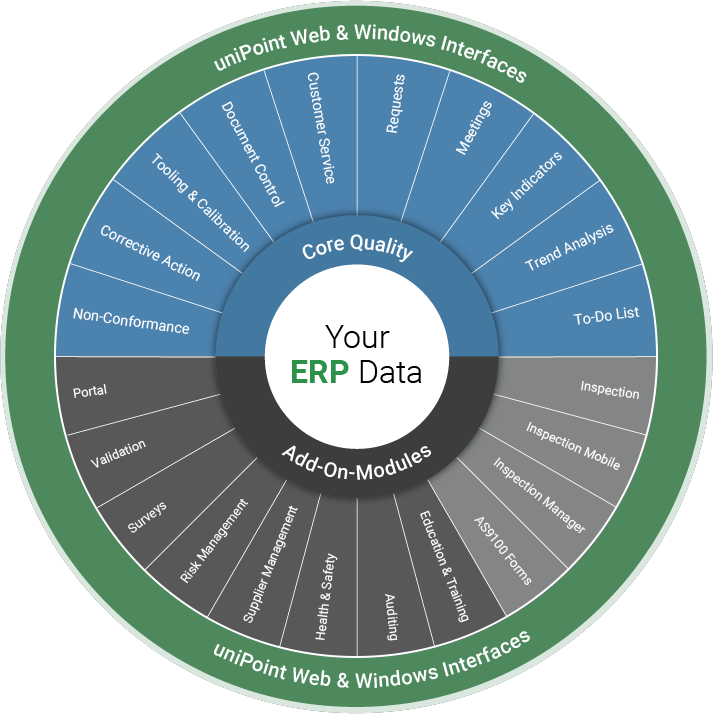 Flexible Deployment
uniPoint is a unique EQMS offering the choice of using a Windows or a Web interface, or both! We are the first in our industry to offer a Mobile-First Design, allowing uniPoint Web to operate on any smart phone, tablet or desktop computer with complete functionality, SSL Security and optimized speed. You can deploy uniPoint on-premises, on a customer-hosted server, or in the uniPoint Cloud. Plus we offer the option of purchasing uniPoint conventionally or via a monthly/annual subscription. No other EQMS offers you this combination of interface, deployment and purchase flexibility.
Quality Automation
The uniPoint Quality Management Software solution offers built-in quality methodologies, advanced user-defined workflows, and eliminates all your manual forms, log files, spreadsheets, and standalone databases. With Bubble Drawing capability and Quality 4.0 technology, such as the auto-transfer of actual Inspection results from your Coordinate Measuring Machine (CMM), and a Mobile/Web Portal for your suppliers and customers, uniPoint is your clear choice. Drastically reduce your audit and management review preparation time, saving you hundreds of hours every year! Our executive dashboard offers over 800 built-in quality metrics or Key Performance Indicators (KPI's), allowing our customers to understand the health of their quality system at a glance. Our Trend Analysis module offers over 80 trend graphs so you can immediately identify the improvement in your quality frequency and costs over time. Confidently recognize where you're headed, because with uniPoint you know with certainty where you've been!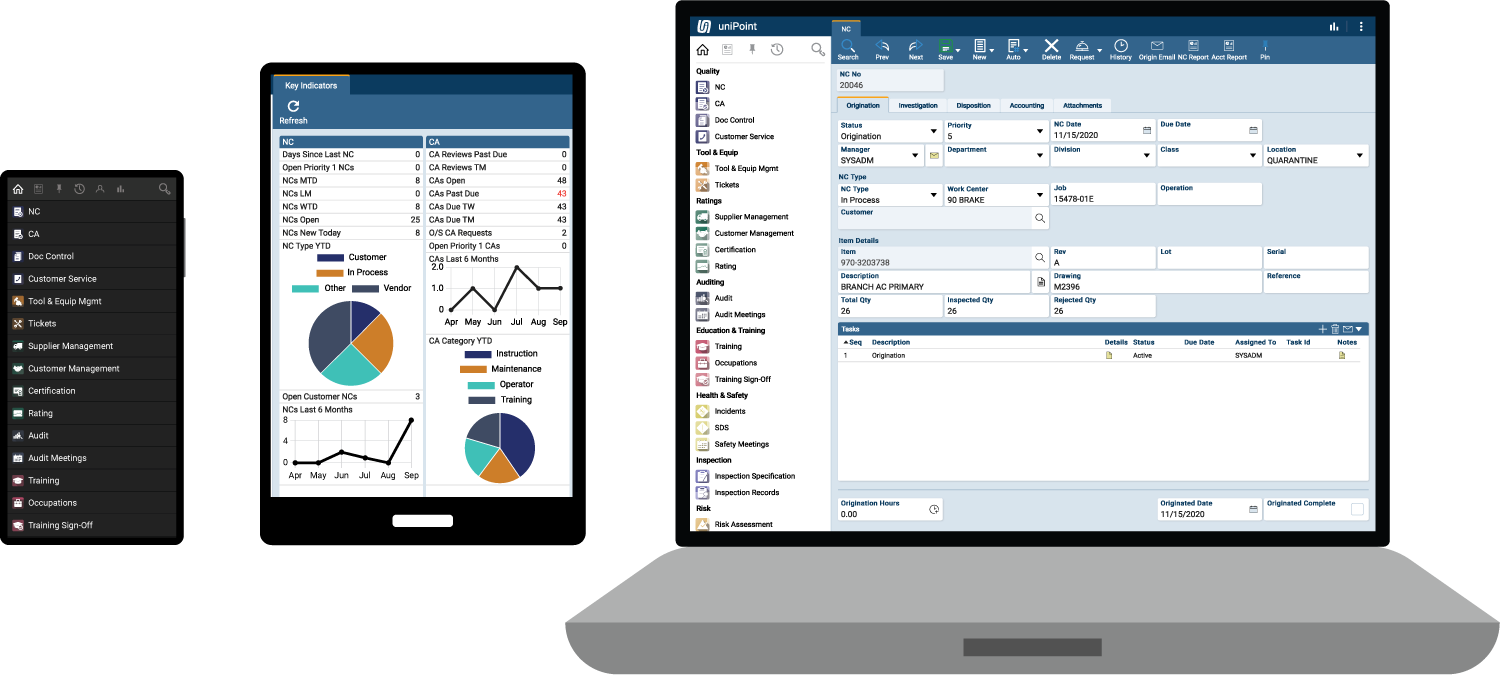 uniPoint was founded in 1996 as an ERP implementation and consulting company, servicing small to mid-size manufactures throughout North America.
uniPoint expanded into software development in 2002, offering its Quality Management Modules to new and existing customers. Today uniPoint software is used by over 1,500 companies in the US, Canada, Mexico, Australia and the European Union.
As an innovator in our industry, uniPoint has provided almost two decades of leadership in developing and implementing Quality Management Software. uniPoint provides a feature-rich, intuitive and integrated platform that allows companies to consolidate, automate and integrate their quality management functions. We add value, and are committed to offering the highest level of quality in our product and support — using the latest technology.